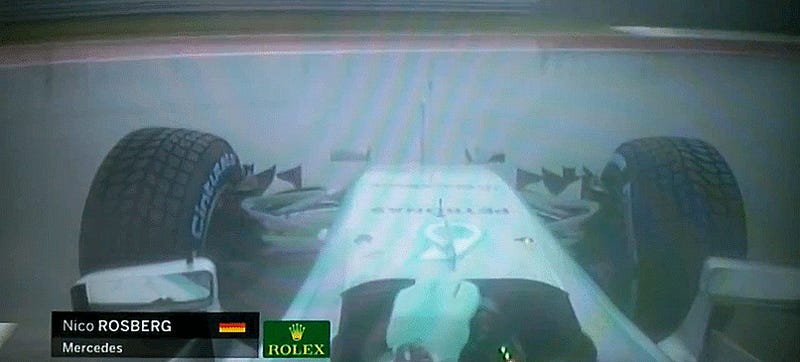 It's so miserable outside for Free Practice 3 that Circuit of the Americas told fans not to show up at the circuit until noon. The FIA decided to run Free Practice 3 at 10:00 a.m. as planned, however, and it's going about as well as you'd think.

For example, here's Nico Rosberg's Mercedes sliding into a wall at the esses:
He's not the only one to have spun out, obviously. He did go on and do a whole lap after his team radioed over, "You've got no front wing so box for a new front wing," so I'd say the wings aren't doing as much for the car at lower speeds.

Rosberg's Mercedes teammate Lewis Hamilton just put down a 1:59.517 lap time - a full 22 seconds slower than his time last year.

Conditions are only getting worse, with poor visibility and rain intensifying throughout the session.

This session was so wet that full wet tires were mandated until further notice. (That further notice won't happen, for obvious reasons.) Nearly every driver has had some hairy moments of opposite lock.

Ferrari's Sebastian Vettel in particular is pushing hard to set as fast a time as possible, and he's even struggling in the wet, despite being one of the better wet-weather drivers.