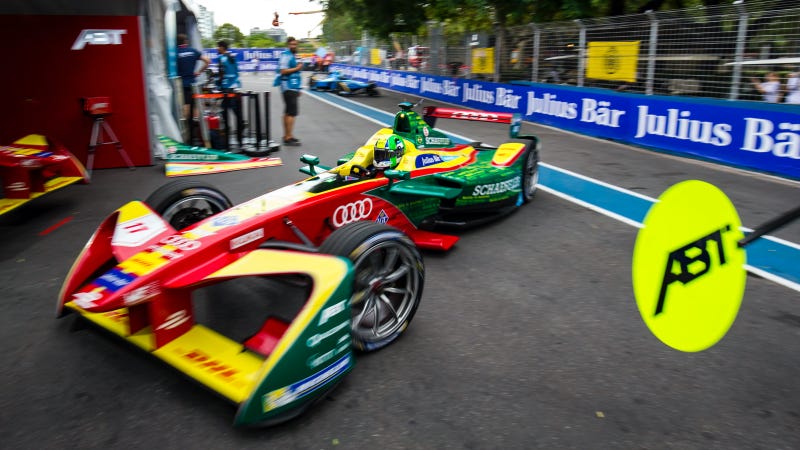 Five U.S. cities are on the short list for a 2018 Formula E race, including Los Angeles, Las Vegas and Austin, reports the Austin-American Statesman. With electric race cars that are vastly quieter than the pit-o'-debauchery that is Sixth Street, the group pushing for the race date says they can act fast to make it happen in Austin. But like all Formula E races, it would happen on the streets, not Circuit of the Americas, which would be far cooler.

The four-person group pitching this Formula E race has already started approaching companies for sponsorship, scouting city streets for a proposed track and reaching out to Austin city leaders. One of the four has local racing experience: Ben Calahane was the former chief sales officer for corporate partnerships at Circuit of the Americas, notes Autoweek.

Formula E CEO Alejandro Agag is excited about the pitch for the Austin race, although he admitted to the Statesman that competition to be the series' second U.S. stop alongside New York is fierce. Austin has several big things going in its favor, though: it's home to many tech companies, already a host to many major national and international racing series, and it's the proud home of many, many green-minded hippies who love their EVs.

Of course, that very expensive Formula One track that is completely left out of these plans is already poo-pooing the idea. Circuit of the Americas CEO Bobby Epstein told the Statesman:

If I thought the city was willing to shut down the streets, we would have never needed to have built a track.

Street races are typically boring because it's too hard to pass. Fans can only see the cars for a few seconds each time around. Also street races are very difficult and expensive to set up. Most of them lose money.
Dude, don't go full Eddie Gossage here. Never go full Eddie Gossage.