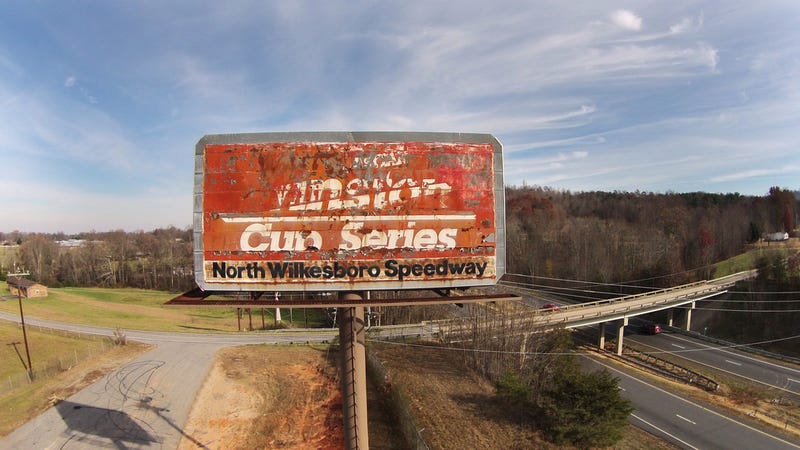 Racing has never been a cheap endeavor, and that goes for the venues that host racing as well. One day a race track can be home to cars thundering down the asphalt before thousands of cheering fans, only to turn into an abandoned, weedy eyesore when their fortunes change for the worse. These are the stories of some of America's ghost tracks.

If you have ever stepped inside one of the poor venues that met this fate, you'll know it's a pretty somber experience. You see the potential, you see what could have been, and, most importantly, you can almost feel the roar of a crowd that once was—likely, never to return.

In closing out our Halloween festivities at Jalopnik (Note: After the recent World Space Week, it's been decided that "Spacelopnik" flows off of the tongue a whole lot better than "Hallolopnik"), we're highlighting one ghost track from each region of the U.S. that's still around to echo its story.
The ones that have been totally demolished, like the old Riverside International Raceway in California, are equally as important, but it's a bit harder to sense that eerie feeling of the past when a track is already gone.
The West: Altamont Motorsports Park in Tracy, California

Compared to other short tracks across the nation, Altamont Motorsports Park has a bit more grim (and sometimes homicidal) history. It is Halloween, but this a bit more eerie than any kid dressed up in a ghoul costume.
Before we get to the darker parts of Altamont's history, let's just take a second to assess its current condition. Photos of this racetrack during its day look all too similar to many short tracks I've visited in my time covering racing, which triggered the epiphany that even the seemingly most booming speedways—from short tracks to large circuits—can face an untimely closure.
In December of 1969, just three years after the speedway opened, it managed to host a free Rolling Stones concert. Sounds all well and good, right?
Wrong. Instead, it turned into one of the most famous debacles in rock 'n' roll history.
The Stones wanted the Altamont Speedway Free Festival to essentially be Woodstock on the West Coast, bringing several other popular bands from the '60s to California to play at Altamont with them.
For whatever reason, the band's management hired the Hells Angels biker gang to enforce security. Why they didn't immediately realize that was a terrible idea is unknown, but they would soon find out the hard way.
From the start, the day was pretty much a disaster. Mick Jagger took a punch to the face, and four fans died during the event—one of the Hells Angels stabbed a fan trying to rush the stage, another fan drowned in an irrigation canal, and a hit-and-run car accident killed two more. Overall, it was a mess that got its own documentary, Gimme Shelter (fitting title), in 1970.
For a more detailed account of the festival, here's a good read for you.