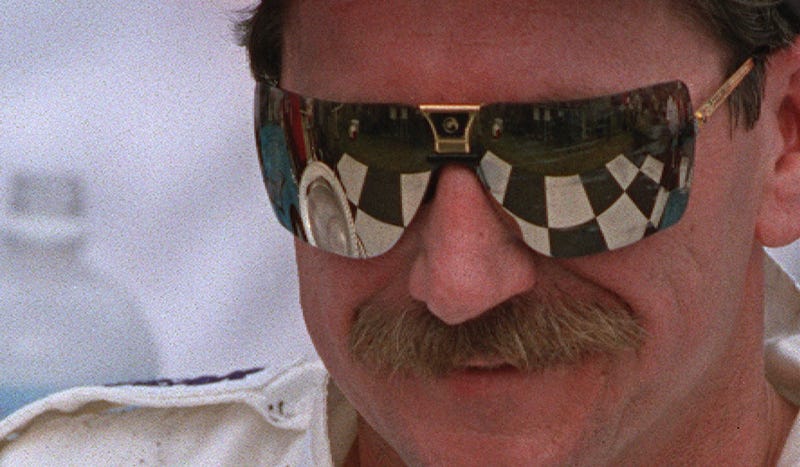 With NASCAR's Daytona 500 this weekend, the sport also marks the 15th anniversary of the death of one of its most legendary drivers: the Intimidator, Dale Earnhardt. While his fatal crash at the 2001 Daytona 500 was tragic and unexpected, it launched an increased focus on racing safety that has saved the lives of countless drivers since.
The neck-saving HANS device, full-faced helmets, better barriers and more were mandated in NASCAR in the years following Earnhardt's death.
It's a deep tragedy that the sport had to lose one of its most beloved faces for these changes to happen, but they very likely kept other drivers from meeting a similar fate.
The Crash
Nicknamed such for his aggressive driving style, Earnhardt started in NASCAR's top-level Winston Cup series in 1975. He went on to win 76 Winston Cup races in his career. Earnhardt tied with Richard Petty for the most number of Winston Cup championships won, as both had seven championships to their name.
In 2001, Earnhardt started the year off in sports car racing at the 24 Hours of Daytona with Andy Pilgrim, Kelly Collins and his son Dale Earnhardt Jr. According to The Earnhardt Connection, their Chevrolet Corvette C5-R took second place in its class, and fourth place overall in the Grand-Am event.

He then went on to participate in the NASCAR pre-season races during Daytona Speedweeks, where 2001 became the first year in a long time where Earnhardt failed to win one of those races. His best result was second to Tony Stewart in the Budweiser Shootout.

Still, everyone knew Earnhardt was still one of the drivers to watch going into the Daytona 500 with 34 victories at that speedway alone to his name.
According to ESPN, a series of changes had been enacted to the 2001 rules package to encourage closer racing on NASCAR's big superspeedways—much to Dale's delight. A 2001 Motorsport.com article on the pre-season events described Earnhardt as "the best in the business when it comes to restrictor plate racing." Even then, NASCAR used restrictor plates on Daytona and Talladega to keep speeds down to safer levels.

Unfortunately, restricting horsepower did little to make impacts safer, and that became NASCAR's focus after Earnhardt met his untimely demise during the last lap of the 2001 Daytona 500.

[Warning: Television footage includes a fatal accident.]
The 2001 race was particularly exciting, with 14 different drivers swapping the lead 49 times throughout the race according to ESPN. Earnhardt led four times for 17 laps total, never veering far from the front.

Heading into the last laps, Earnhardt was in third place behind two cars from his own Dale Earnhardt Incorporated team—Michael Waltrip was in front, followed by son Dale Earnhardt Jr.
Earnhardt Sr. was trying his best to maintain his podium position while blocking traffic around him from catching his team's cars in front. As the cars went three-wide behind the leaders heading into turn 4 of the last lap, light contact with Sterling Marlin's Dodge unsettled Earnhardt's car and sent him into the hard concrete barrier at the top of Daytona's banking. The passenger side of Earnhardt's car collected Ken Schrader's No. 36 car, with Schrader t-boning the number 3. Earnhardt lost control doing 170 mph, and hit the wall at a 75-degree angle at over 150 mph.

Both cars slid back down to the bottom of the track without making contact with oncoming race traffic. The checkered flag flew moments after the impact, giving Waltrip the win.

At first glance, it looked like a hard hit, but many expected Earnhardt to pop out of the car as he normally would, relatively unharmed. After all, the race had been red-flagged earlier for a much more dramatic looking 18-car crash where Tony Stewart's car flipped over twice, but per Jayski's Silly Season Site, the most serious injury from that wreck was Stewart's mild concussion.

Michael's brother Darrell Waltrip was in the booth, cheering on his brother as he watched him win one of NASCAR's most iconic races. The television broadcast only briefly cut away from the leading pair to show Earnhardt and Schrader's impact. When no one had seen Earnhardt emerge from the wreck, however, Darrell's excitement faded to concern.

"How about Dale—is he okay?" Darrell asked on air. He continued, "I just hope Dale is okay—I guess he's all right, isn't he?"
Post-race activities were tempered with concern for Earnhardt's condition as news of the crash's severity spread.

"The only reason I won this race was Dale Earnhardt," Michael Waltrip told ESPN. "I just pray that he's okay."
Meanwhile, at the site of the two wrecked cars, ESPN reports that Schrader had gotten out of his car and rushed to Earnhardt's side, immediately signaling to rescue workers to come to the driver's aid. Paramedics found Earnhardt unconscious, without a pulse.

Not wanting to cause further damage to Earnhardt's spine, rescue workers cut the roof off of the No. 3. Despite the CPR efforts of the team on-site and the team in the ambulance that took Earnhardt to nearby Halifax Medical Center, Earnhardt never showed any signs of life, according to reports at the time. Doctors pronounced him dead at 5:16 p.m. that day, as he likely died upon impact.

Legacy

Earnhardt's death was a tremendous loss for the sport and for American sporting culture in general.
"The Intimidator," despite his nickname, was an immensely popular driver, long beloved for being accessible to his fans and for his racing talent. His death sparked the series into action.
According to an ESPN article from 2001, NASCAR had already been examining ways to make its racing safer after three drivers were killed in crashes during the 2000 season. NASCAR President Mike Helton confirmed that the series had already laid the foundations for their own research and development center when he spoke to the media about the Earnhardt crash. There, the series could focus on improving all aspects of the cars and racing—including driver and spectator safety.

However, Earnhardt's death made safety issues a priority for many teams. Former Charlotte Motor Speedway president H.A. "Humpy" Wheeler told That's Racin' of Earnhardt's passing:

You hate to say this, but you have to. Earnhardt's death got us all moving fast, which needed to be done. There's never been the death of a race driver that's had more of an impact.
No one could postpone the discussion of safety issues anymore. In presenting NASCAR's report on the Earnhardt crash, Helton confirmed that the series had already spoken with drivers and manufacturers about making improvements to driver restraints, seat designs, padding and most importantly, how to dissipate the energy from a crash in a way that is safer for the drivers.
According to speakers at NASCAR's press conference on the Earnhardt crash report, the left lap belt in Earnhardt's car had separated under load in the impact, allowing his body to come loose from the seat. Abrasions on the seat and steering wheel as well as velour seat fabric that had actually melted from friction confirmed that Earnhardt's body moved significantly under impact and came into contact with the steering wheel.
The New York Times reported that Earnhardt also was not wearing a full-face helmet during the crash, which contributed to its severity, and that he also broke eight ribs on his left side from contact with the steering wheel.
In response, NASCAR created a computer model to study similar crash scenarios where cars crash into a barrier at a critical angle, which they claim could help belt manufacturers improve belt strength and determine better installation methods that could prevent similar scenarios in the future. Many teams quickly moved to using six-point belts that distribute the forces of a crash more effectively. Additionally, the series now requires drivers to wear full-face helmets.

Perhaps the most famous innovation to gain widespread use after Earnhardt's crash was the HANS device—a U-shaped collar worn underneath harness belts that tethers to a driver's helmet, restricting the movement of a driver's head in the event of a hard impact. Head and neck restraints had been encouraged by NASCAR before Earnhardt's death, but weren't widely used.