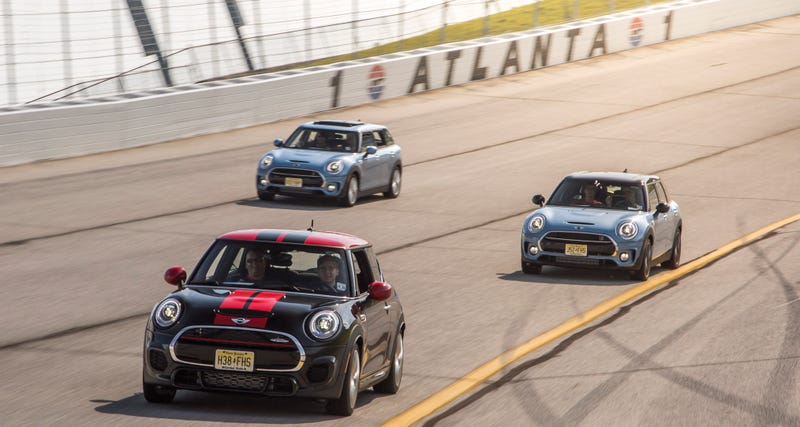 I have definitely knocked NASCAR a few times in the past with all of the lame cliches: "It's just a circle," "It's not complicated enough," and, "No, I've never been sexually attracted to my cousin." But I've seen the error of my ways, and it took a front-wheel drive 228 horsepower hot hatchback banking the track of Atlanta Motor Speedway at 120 mph to convince me that stock car racing is a respectable, exciting and terrifying motorsport.
(Full disclosure: Mini wanted me to take part in its ongoing Mini Takes The States biennial nationwide road trip so badly they waited until Jalopnik EIC and habitual Mini buyer Patrick George was out on vacation to invite us to join them for the beginning of the journey. Sadly for Patrick, they had a manual 2016 Mini John Cooper Works ready and waiting in Atlanta for me.)
I really didn't know what to expect when I agreed to join Mini for the beginning of the Mini Takes The States road trip. I knew it involved Mini owners and members of the press tackling a connect-the-dots journey that would stop in 16 cities, visiting various race tracks across the country over the span of two weeks. And that was about it.

But I had never driven a Mini, and I had never been to a NASCAR racetrack, despite living 15 minutes from Charlotte Motor Speedway. I never really had any good reason not to give NASCAR a chance, but I never felt a reason to check it out, either. Now I had one.
It seemed a wise idea to ask for something with a manual; a John Cooper Works if they had it. I was a little late to the game but, happily, Mini obliged.