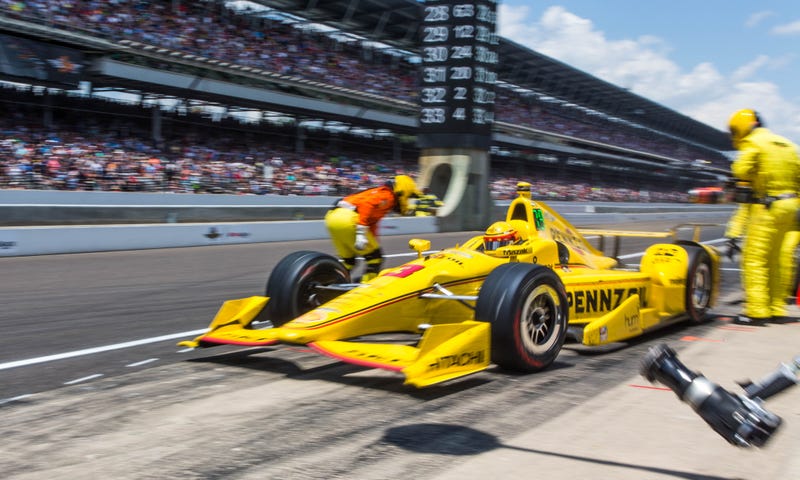 At the Indianapolis 500 last weekend, we asked a bunch of IndyCar drivers how they would make the sport more popular. "Produce the same kind of race as always," driver Ed Carpenter suggested. "The product speaks for itself," Marco Andretti said. This year's Indy 500 produced the third-lowest television ratings in 30 years.

The thing is, this year's Indianapolis 500 was amazing. 54 lead changes. A nail-biter of an ending. A brand-new face enjoying the milk. Yet the 100th running of IndyCar's crown jewel failed to have much of a presence outside of the Indianapolis area.

The Indy 500 this year should have brought its most famous race even more attention than usual. It ran in front of a sold-out crowd, and the series was constantly promoting the milestone and in hopes of getting all eyes (including a significant chunk of our coverage) on the race.

Indianapolis Motor Speedway never releases official attendance figures, but the Indianapolis Star estimated the crowd to be around 350,000. That's one out of every 1,000 people in the United States inside IMS.

Unfortunately, this push for the 100th Indy 500 ultimately only got more fans in the stadium and more local eyes on the race. Boosted by a decision to broadcast the race in real-time for the first time in 66 years, the Indianapolis market alone had an unreal 33.6 overnight television rating for the race.
Nationwide, the ratings were much worse: a 4.1 overnight rating, the third lowest in 30 years. Without Indianapolis propping that rating up, Nuvo notes that the ratings would have been in the threes. To contrast, the NASCAR Sprint Cup Daytona 500 scored a 6.1 national overnight rating this year — and Daytona's rating was down 16% from last year.

It's the consistent problem hounding IndyCar: how do they make it relevant outside of Indiana? And to an average viewer who has no idea why Carol from The Brady Bunch ended up as the grand marshal, why should they even tune in for IndyCar's flagship race?
Or the rest of the season, for that matter?
How did IndyCar become so unpopular that even a landmark year for its most famous race went largely ignored by most of the country, then? And why aren't drastic changes being made to put America's top-level open-wheel racing series back on top where it belongs?

How The Current Drivers Would Fix It

Before the race, I asked several drivers how they would put IndyCar back in the limelight—and by IndyCar, I mean the whole season for years to come, not only the much-hyped 100th Indy 500. Thing is, I didn't expect anyone to say much. IndyCar's been notoriously hard on public criticism from their own drivers as of late, when perhaps now is when they need them to speak up more than ever.