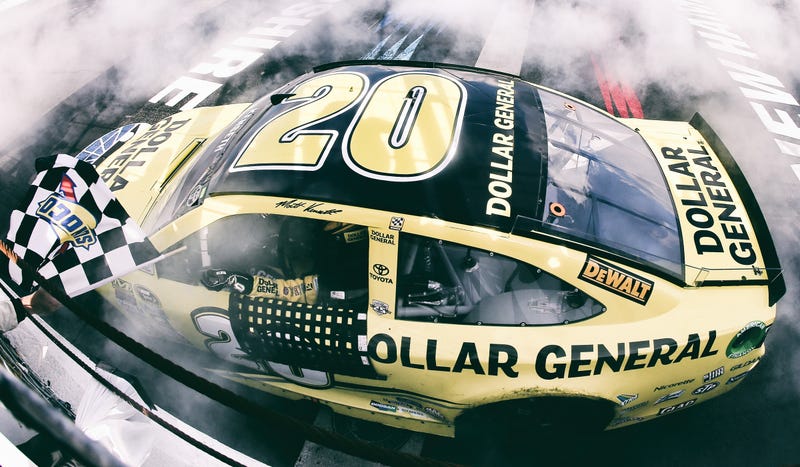 NASCAR Sprint Cup racer Matt Kenseth may have gotten to introduce his daughters to Loudon the Lobster—a huge live lobster presented to winners at New Hampshire Motor Speedway—but he has more to worry about than "will I get pinched?" Kenseth's car failed NASCAR's post-race technical inspection.

Kenseth's No. 20 Joe Gibbs Racing Toyota failed in the laser inspection station (LIS) that NASCAR uses to make sure all of the cars comply with series rules, per NASCAR. Often an LIS failure means that body of the car has been tweaked for more side force, and thus, better turn-in on a short oval like New Hampshire, Beyond the Flag explains. That would give the car an unfair advantage over the others.

No penalties have been assessed at this time. To make sure they caught something, the car will return to NASCAR's Research and Development Center in Charlotte, N.C., for a full tear-down and more thorough inspection.

NASCAR executive vice president and chief racing development officer Steve O'Donnell explained on SiriusXM NASCAR Radio how they want to make sure there was actually a violation (as opposed to, say, something broken) before handing out a penalty:
A failure at track doesn't necessarily mean a failure once we get it back to the R&D Center.

What we're going to do, and the reason we bring it back to the R&D Center, is to look at what, if any, damage occurred to that car. What, if any, parts were broken? We've got the best engineers in the world, so were they manufactured to possibly break? We've got to go through all those things. If, after that, we determine if it's still a violation, we would issue a penalty
One upside if you're bored at work on Tuesday is that NASCAR broadcasts their post-race inspections for all to see. You can watch that instead of getting anything productive done here tomorrow, starting at 8:00 a.m. ET.