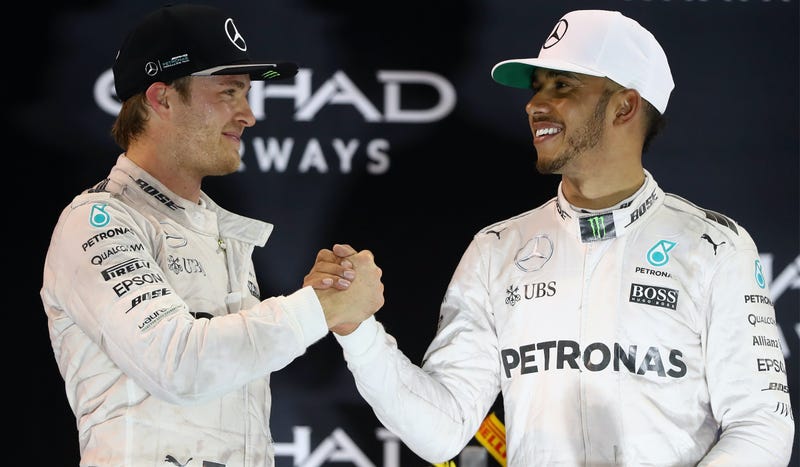 While I'm happy for Nico Rosberg as he gets to retire on a high note after finally winning a Formula One world drivers' championship, I have to wonder what this means for excitement in the sport next year. Rosberg's retirement ends the heated rivalry that's defined the past few years of F1 and thus, signifies the end of an era.

For race after race in 2015 and 2016, Rosberg and Lewis Hamilton—Mercedes teammates, longtime associates and often bitter rivals on and off the track—battled for points and titles and legacy.
Perhaps this hasn't been the most enjoyable era of F1, as only Mercedes seemed to nail the V6 hybrid turbo formula right out of the gate. Pretty much every other team has been left in catch-up mode ever since, giving Mercedes three constructors' championships in a row that came far too easily.
While it must be said that they were in the right car at the right time, the constant battle between the ultra-talented driver duo of Hamilton and Rosberg was no small part of Mercedes' championship three-peat.
And oh, did they ever get under each others' skin.

Here were two racers who'd known each other since childhood, and by the time they ended up on the same F1 team, there was no greater burning desire than their insatiable need to beat their teammate.

The rivalry didn't just play out on track, but in comments and mind games outside the racing as well. Every word that came out of Hamilton's or Rosberg's mouths about their teammate was pure dramatic gold. For years, many even assumed that Hamilton had the upper hand, as he tended to be the more outspoken and outwardly confident of the two, and that Rosberg had fallen in line as a number two driver. Rosberg admitted in his retirement statements this morning that losing to an often cocky Hamilton only made him need—this was no want, but a basic, primal need—to win more.
Rosberg specifically mentioned the 2015 United States Grand Prix where Hamilton pushed him out of the way at the first corner in his press conference today, where Rosberg announced his retirement to the masses. That move and the dramatic post-race hat toss that followed was the ultimate boiling-over of the Hamilton vs. Rosberg rivalry. Hamilton had just clinched his third world drivers' championship, and Hamilton's swagger was just too much for Rosberg to bear after that first-corner move.