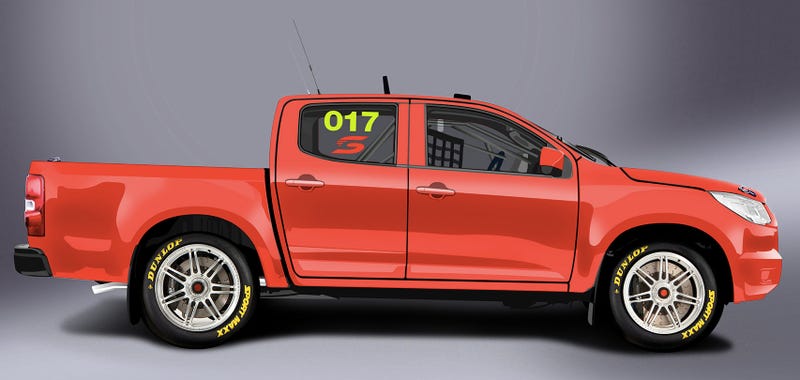 Not a day goes by that I don't see a comment or email from a reader pontificating about how excellent small, diesel-powered pickup trucks are. You still can't buy enough in the U.S., but at least next year you'll get to see them on race tracks!
While we have NASCAR and the NASCAR Truck Series here in the U.S., Australia has V8 Supercars and formerly V8 Utes, "ute" being the Aussie word for "pickup" but in this case referring to the El Camino-style cars-with-truck-beds so beloved in the Land Down Under.
But apparently that love is actually starting to wane, as four-door pickup trucks are gaining popularity as default work/play vehicles. We like those here in the U.S. too, though I'm jealous to report the Australians get a lot more diesel-powered manually-shifted versions of vehicles in this category.
Starting next year, those little diesel trucks are going to hit some of Australia's biggest racing circuits as "SuperUtes"; a sideshow at V8 Supercar races and replacing the V8 Utes series, according Supercars.com.
As Supercars Managing Director Matt Braid said in a press release:
"Utilising production based turbo-diesel dual cab utes currently available for sale in the Australian market, SuperUtes will open the category to a variety of new manufacturers while still maintaining the spectacular and entertaining elements that make the category such a favourite with the fans."
So the series will feature the little trucks we long for like the Ford Ranger, Toyota Hilux, Holden Colorado (Chevy Colorado), Nissan Navara (Nissan Frontier), Mitsubishi L200 and heck, maybe even SsangYong will get in the mix!