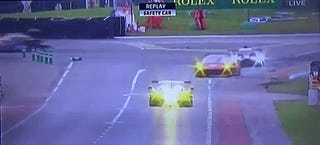 With ten cars retired now out of sixty 24 Hours of Le Mans entrants, it's time for our yearly reminder that Le Mans is an utterly merciless place on cars and drivers alike. Here's how Le Mans is sending teams packing early in 2016.
Here's a quick run-through of the cars that are now marked as "Retired," which won't be getting repaired to go back out for this race.
No. 89 Proton Competition Porsche 911 RSR (LM GTE Am)

Sadly, the first retirement of the race was a team of two drivers looking to beast-mode their way through being one man down. Marc Miller spun into the wall after hitting coolant on the track.