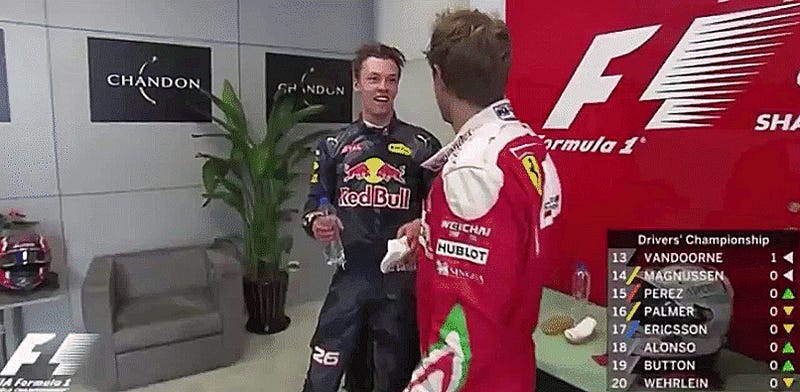 Ferrari Formula One driver Sebastian Vettel's version of a post-race spat is somehow incredibly tame and hilariously immature all at the same wonderful time. After complaining about a first-lap incident all throughout the Chinese Grand Prix, both he and the target of his rage end up on the podium.

Russian chuckles ensue.

Here's where Vettel—erm, well. I'd really hesitate to call this a fight since Red Bull driver Daniil Kvyat does such a stellar job of shrugging and laughing it off. This is more like a one-sided prolonged whine meant to be savored and appreciated. Here's the part right before the podium ceremony where Vettel blames Kvyat for all of his problems.

Race winner Nico Rosberg performed a repeat performance of his race by promptly running away from these jamokes. Rosberg got out in front early and ended the day with over 38 seconds separating him from second place finisher Vettel.

"You came in like a torpedo!" said Vettel to Kyvat, gesticulating like an angry mother.
"I was racing," Kvyat said back, pointing out the obvious. Torpedo-like speed is generally what you go for during a race—bless your heart.

Vettel telling Kvyat "you were lucky this time" as he's taking off the top of his racing suit almost feels like he's trying to be Mister Tough Guy, but good grief. Vettel is a guy I like precisely because he's a bit of a nerd. The same lovable mischievous German who admits to liking Monty Python puffing up all macho-like is a threat more hollow than my sad, meaningless life.
In case you missed this morning's race, here's how ridiculous it is for Seb to still be fuming mad at the end of it. It all started with this fairly tame first-lap contact.
That's it. No one was hurt. No one's race was over. Everyone made it back into the pits just fine for repairs. Curiously, there weren't even any retirements during the entire race.

Regardless, Vettel ended up wedged between Red Bull of Daniil Kyvat and the Ferrari of his teammate Kimi Räikkönen. It was one of many racing incidents on the first lap, and it was just that: a racing incident, caused by too many cars trying to funnel into the same space.

Räikkönen tried to turn into the corner, and Kvyat was on the inside of Vettel. Vettel really didn't have much room between the two cars and tapped Räikkönen in the chaos. Vettel likely felt plenty of shame for colliding with his own teammate now that he's on his own personal F1 dream team, hence all of his commentary afterwards.

Räikkönen then collided with Kvyat after Vettel ran into him, and he didn't even seem to be bothered by it. This is why we love Kimi.