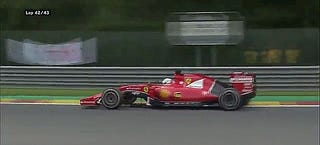 Ferrari tried a single-pit-stop strategy with Sebastian Vettel's car for the Formula One Belgian Grand Prix today that didn't ultimately work out, as you can see. One of Vettel's Pirellis popped in spectacular fashion on the next to last lap.

Vettel was running in third as he was fending off Lotus's Romain Grosjean, but his right rear tire exploded going down the Kemmel Straight.

The BBC reports that he did 27 laps on the tire, longer than anyone had attempted in practice.

Vettel was steaming mad after the incident, telling the BBC, "Things like that are not allowed to happen, full stop. If it happened two hundred meters earlier, I'm not standing here now. [I'd be] stuck in Eau Rouge. I don't know what else needs to happen."

Vettel was adamant that not only could he have been injured, but that the poor quality of the tires cost him a podium finish that he felt like he had earned.

"I'll tell you what is upsetting," he continued to the BBC. "Upsetting is that one thing is the result. You know, this is racing, for sure, we deserved to finish on the podium, but the other thing, as I said, if this happened earlier, then you know.
"I think [tires are] a sort of theme that keeps going around, that nobody's mentioning, but is unacceptable," Vettel concluded.

According to the BBC, Vettel had stated his concerns in a driver's meeting earlier in the week after Nico Rosberg's blow-out in Free Practice 2. After having his own blow-out, Vettel was frustrated with Pirelli's response, telling the BBC:

What was the answer? The same as every time: "Yeah, well there was a cut, debris, there may be something wrong with the bodywork, the driver went wide." [expletive censored], if Nico tells us he didn't go off the track, then he didn't go off the track. I mean, why should he lie to us?

It's the same with me, I didn't go off the track, it's just out of the blue the tire explodes. As I said—as I said, if this happens earlier, then [expletive censored].
Rosberg was similarly annoyed with Pirelli after his blow-out in practice, telling the BBC, "The problem is that we don't really understand it. There are theories, but no real evidence."

While Vettel admitted to the BBC that tires have improved since 2013's asplodin' spectacle at Silverstone, he still feels as if this many blow-outs is wholly unacceptable.