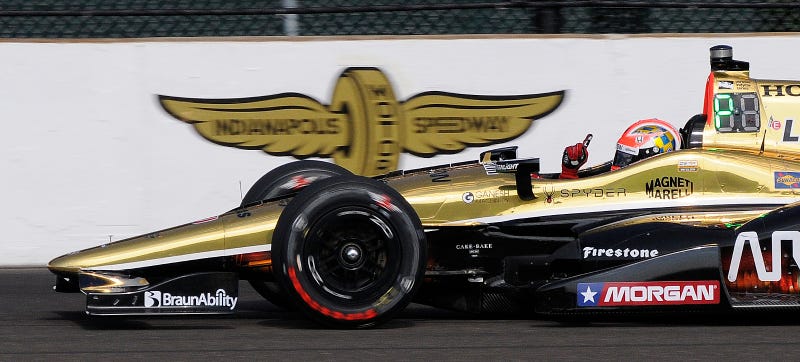 It's time for the so-called "greatest spectacle in racing": the Indianapolis 500. This year's race is even more intense given that it's the 100th running of the big show. Here's why you should tune in, besides the fact that if you don't you're a bad American.
IndyCar often feels a bit forgotten despite usually putting on a great race. But if people tune into one IndyCar race every year, it's the Indy 500. The Indy 500 has long been considered one leg of the Triple Crown of Motorsport, alongside the Formula One Monaco Grand Prix on Sunday and next month's 24 Hours of Le Mans. In other words, the three most prestigious races in the world. And this internationally respected, glamorous event happens right smack-dab in the middle of Indiana.
The race has been running since 1911, only breaking twice for the two World Wars. For the first time in years, it's running in front of a sold-out crowd. Even the practice of tape-delaying the race for central Indiana locals has even been suspended for the first time since the early 1950s.

But should you watch? It's not like there's a shortage of motorsport going on this weekend, with the 24 Hours of Nürburgring, Monaco Grand Prix and NASCAR Coca-Cola 600 all vying for your attention along with whatever cook-out/loafing shenanigans you have planned for your holiday weekend.

But the Indy 500 is America's big tradition, dammit, and it's hitting a big milestone this year. You're not just watching a race at this point. You're watching history be made.
Here's what you need to know.
So, what's the deal with IndyCar?
IndyCar is America's major open-wheel series, but it operates outside the whole Formula One ladder system. You may recognize several names like Alexander Rossi or Juan Pablo Montoya from F1, but other drivers came up through Indy's own Road to Indy feeder series—or elsewhere. One such series, Indy Lights, ran alongside IndyCar today to an incredibly close photo finish.