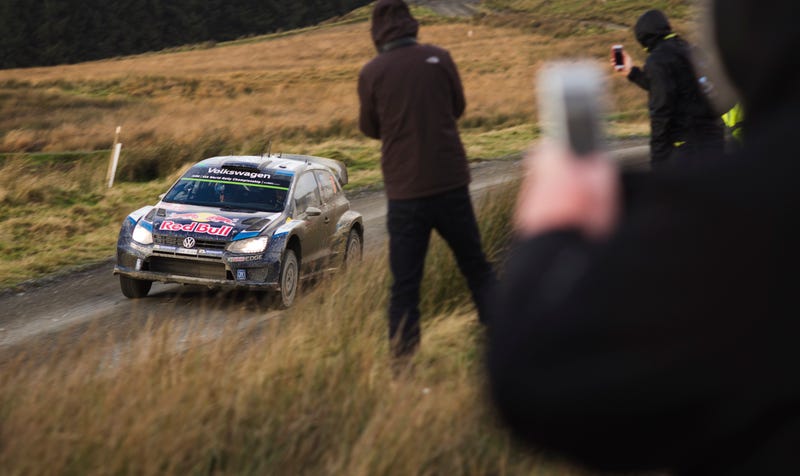 I met him on a short hill overlooking the road, some macho Welsh local covered in rain and dirt, pulling a beer from his poncho and waiting for the next car to wail past. I asked him why he had trekked into the woods, soaked through his boots, standing for hours on the side of a road, just to get sprayed with rocks from screaming, 300 horsepower hatchbacks.

"WHY?", he boomed to me, "BECAUSE IT'S FUCKING WILD!"

He wasn't alone. I saw thousands of people that week doing the same thing. I had flown halfway around the world to find out why anyone in their right mind would be a rally spectator.

Rallying: The Most Methodical Major Motorsport
This was Wales Rally GB, the last round of the World Rally Championship, held on one storm swept weekend last November on the vowel-deficient nub sticking off the western side of Great Britain.
It's important to understand that rallying is possibly the most obsessively, methodically inane form of major auto racing. The face of it is that you take a regular road car, strip it, cage it for safety, modify it with insanely expensive suspension, custom all-wheel drive, and an extremely high-strung turbo engine. Then you race the car on real public roads, which rally organizers have closed for safety.

But the thing is that these cars don't race against each other; they race against the clock. Cars run one by one, spaced out one, two, or even three minutes apart. The roads they race on, typically twisting forest logging tracks, are by necessity in the middle of nowhere. Most of the time the competing rally cars are simply driving from one section of closed road to another.
On the road sections, the cars are only trying to adhere as closely to as schedule as possible. You are penalized for going too fast. You're not allowed to, because then you would be breaking local speed limits.

So out of a whole weekend of racing, the cars really only race flat out for a very short period of time, and then they only race in the middle of absolutely nowhere, and since they don't race wheel to wheel, you only see them go by one at a time with no clue which driver is the fastest, or who is winning. Just zoom, car goes by, wait a minute, zoom, another car goes by again.
You need to invest the better part of an entire morning to see the field of cars pass you a single time.
You'd think nobody would even show up to watch. And yet, I kid you not, thousands upon thousands of people trekked out into the Welsh forests for this rally. Wales was not kind to them.
It is hard to describe the shit I slogged through to chase the event, flown over by Subaru to follow their Manx driver David Higgins in a tribute car to the late world champion Colin McRae. (Higgins had won literally every single major event in America's rally championship, so I guess the team awarded him the chance to run in this international event. He won his class.)
I remember standing on top of a dam, in 40-mile an hour winds that had long since torn my poncho in half, being pelted with stinging rain blowing up the face of the dam and directly into my face. I stood there for several hours waiting for the top drivers to pass. They were only in view for a few seconds at a time.

That was only a single morning on the trip. Watching a rally like this requires driving hundreds of miles criss-crossing Wales, from one remote forest to another. I (and everyone else I talked to following the rally, from locals to tourists coming in from all over Europe) was up early and home late. Too hot and too cold, never dry, stained with mud and exhausted. The tea was good, at least.
In and of itself, watching a rally is a horrible experience. It would easily put itself in the running for the worst sport to watch in the world, and that's leaving the deaths aside.
The Cars Too Fast To Live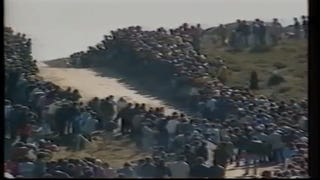 The deaths. You can't talk about rally spectators without talking about the cars and the fatal crashes of the 1980s.
From '82 through '86, the World Rally Championship ran a new Group B category that almost completely removed its restrictions on the kinds of cars companies could enter, so long as they built a few dozen road car versions that ordinary (but rich) people could buy. At no time did the WRC attract more fans out onto the stages.
With nearly no limits, these Group B cars got insanely fast. As they got fast they got popular, and as they got popular more and more manufacturers got involved until you had huge budgets running rally cars almost as quick as Formula 1 cars of the day, with huge swarms of people coming out to see the sheer spectacle of insanely expensive supercars shooting fire and ripping down some random country road.
It did not take long for companies like Audi, Ford, Lancia, and Peugeot to build cars for the series, and even Ferrari and Porsche had designs they were ready to enter before the series got shut down.
Why did it get shut down? Because a lot of people died.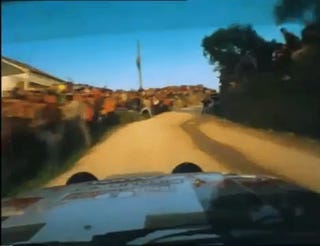 No rally ever had more unruly spectators that in Portugal, and at the 1986 rally there, one Ford lost control and plunged into a crowd on the side of the road. Some 30 people were injured and three died.
Later in that season one of the top drivers, the young and promising Henri Toivonen, missed a turn, flew off the road, crashed into a tree, and caught on fire when his fuel cell ruptured. He and his co-driver Sergio Cresto burned to death. These were only the final fatal crashes in a longer run of terrifying wrecks, near-misses, and worrying complaints of fatigue from the drivers.
Rallies in the '80s were very long and grueling events, made more difficult for the drivers by their overpowered cars. Even more difficult was that they had to drive through seas of fans playing chicken with them standing in the middle of the road. Video from the time is harrowing.
The organizing authority on the WRC cancelled the Group B category for the following year, reduced the speeds of the cars, and crowds eventually calmed down.