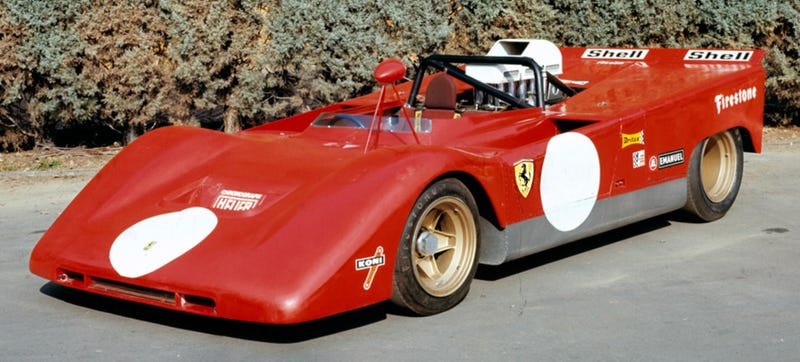 Few remember the 712 Can Am. Why should they? It never won a race and barely competed in two seasons of competition here in America. It does, however, have one thing going for it: the largest engine Ferrari ever built.
The 712 Can Am followed a pretty straightforward naming scheme. Can Am pointed out that the car ran in the barely regulated/completely unhinged Canadian/American sports prototype racing championship from the '60s and '70s. The 12 stood for the number of cylinders. (Twelve.) The seven was a bit of a misnomer, actually.

This car houses a 6.9-liter (it's precisely 6860cc) naturally aspirated V12. Ferrari had never built a V12 so large, and it never did again. We've seen a number of 6.0-liter and 6.3-liter 12s in the meantime, but never one quite so voluminous as this one. In Ferrari's own words it is "its biggest ever engine."

The reason why it was built was because Can Am back in 1971 was dominated by absolutely huge displacement engines, like the 8.0-liter and 8.3-liter Chevy V8s that McLaren was running at the time. Ferrari wanted to compete, and it made an engine presumably as big as it could.