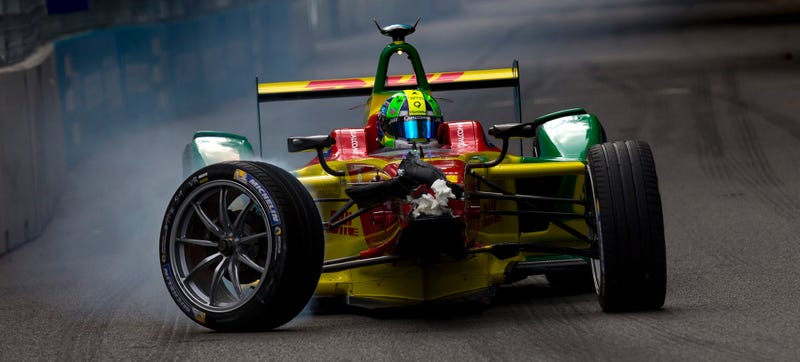 Formula E is a recent addition to the world's motorsports scene, an electric counterpart to the gas-guzzling established series. It does a lot right, but still nobody really seems to know what it is, what's it's up to, or why it's important. Here are three things the series could do to right itself and no, they're not gonna be cheap.
Formula E, as I said, does a lot right. It's easy for manufacturers to get into, as all of the hardware is uniform across all the teams. The physical chassis, even, is identical, so if, say, Jaguar wants to buy in to the series, they can be competitive from day one. It's a great incentive.
And the series brings racing to the people. Rather than compete in faraway circuits that are, by regulation, far away from neighbors complaining about noise and traffic and parking, Formula E runs on street circuits everywhere from Hong Kong to Berlin. It's accessible.
Best of all, Formula E is spectacularly good at making headlines. After all, they're an eco-friendly series. Any casual observer takes one look at Formula E and gets the same excited thoughts. They run electric cars! That's the future! It's the future, but now! I bet what Formula E is doing is great!
But the moment they actually sit down to watch the series, the whole thing falls apart, particularly when they see drivers run out of electricity and, rather than recharge or swap batteries or whatever, they get out of their car and swap into a fully-charged second vehicle.