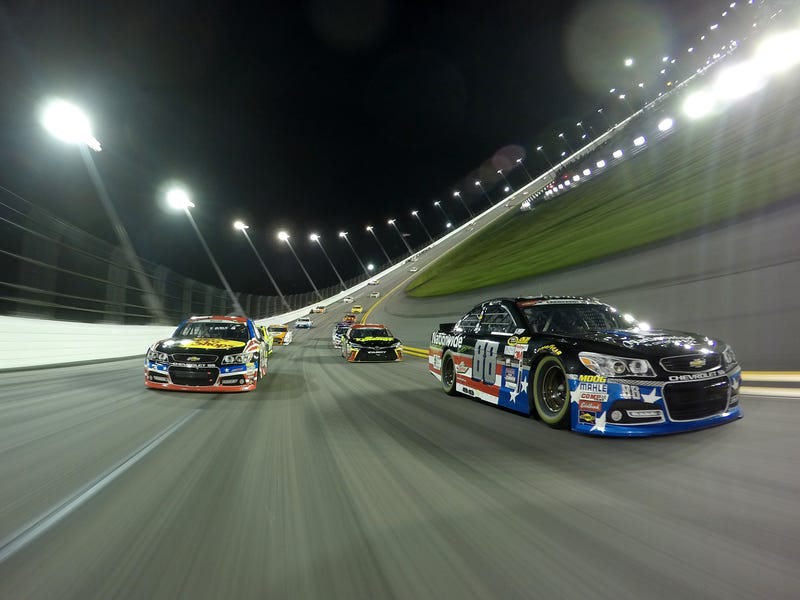 Welcome to the Jalopnik Weekend Motorsports Roundup, where we let you know what's going on in the world of racing, where you can see it, and where you can talk about it all in one convenient place. Where else would you want to spend your weekend?

As all of us know too well, it's Valentine's Day weekend. Yes, love is in the air. But race cars are on the track, too. Lots of them.
For the first time in what seems like months, the weekend schedule is packed. Both the NASCAR Sprint Cup Series and ARCA Racing Series return to the track at Daytona International Speedway, NHRA heads to California, the FIA World Rally Championship will tear up the courses in Sweden and Monster Energy Supercross is back once again. Good luck fitting in your Valentine's celebrations.
While practice and pole qualifying for the Daytona 500 will air, the only actual race that (some of) the Sprint Cup drivers will run this weekend is an exhibition event called the Sprint Unlimited. Only 25 drivers qualify to compete in it, and the race is just a 75-lap shootout for bragging rights.
The ARCA Racing Series will compete at Daytona prior to the Sprint Unlimited on Saturday as well. As for Daytona 500 pole qualifying on Sunday, it will lock in the top two starting positions for next weekend's show. All other drivers will decide their starting positions in the two 150-mile Can-Am Duels on Thursday.
On the drag-racing side, NHRA returns this weekend as well. The season-opening Winternationals will take place at Auto Club Raceway in Pomona, California, while Monster Energy Supercross will be just a couple of hours away in San Diego. Same state, double the fun.
But the FIA World Rally Championship will be in a whole other country. The series has a paid live stream of the weekend online, and there will be a short amount of coverage on MAVTV as well.
In addition to the multitude of live race coverage, plenty of action will also be on tape delay. Showings include the American Sprint Car Series, Continental Tire SportsCar Challenge, Lucas Oil Modified Series, Lucas Oil Late Model Dirt Series, Lucas Oil Off-Road Racing Series, There Are So Many Lucas Oil Series That Even I Lose Track Sometimes, Monster Jam and Red Bull X Fighters.
If you know of any other events or live streams going on this weekend, you know the drill. Feel free to share them with us in the comments section below.
All times below are EST.

Saturday
---
NASCAR Sprint Cup Series: Daytona 500 at Daytona International Speedway in Daytona Beach, Florida
5 a.m. — Practice (delayed) on Fox Sports 1
10:30 a.m. — Practice on Fox Sports 1
1:30 p.m. — Practice on Fox Sports 1
---
Continental Tire SportsCar Challenge: BMW Performance 200 at Daytona International Speedway in Daytona Beach, Florida
8:30 a.m. — Race (delayed) on Fox Sports 1
---
American Sprint Car Series: Devil's Bowl Winter Nationals at Devil's Bowl Speedway in Mesquite, Texas

10 a.m. — Race coverage (delayed) on MAVTV
1 p.m. — Race coverage (delayed) on MAVTV
7 p.m. — Race coverage (delayed) on MAVTV
10 p.m. — Race coverage (delayed) on MAVTV
---
ARCA Racing Series: Lucas Oil 200 Driven By General Tire at Daytona International Speedway in Daytona Beach, Florida
4 p.m. — Race on Fox Sports 1
---
Lucas Oil Modified Series: Fast Orange 75 at Irwindale Speedway in Irwindale, California

4 p.m. — Race (delayed) on MAVTV
---
Lucas Oil Late Model Dirt Series: Topless 100 at Batesville Motor Speedway in Batesville, Arkansas
5 p.m. — Race (delayed) on MAVTV
---
NASCAR Sprint Cup Series: Sprint Unlimited at Daytona International Speedway in Daytona Beach, Florida
6 p.m. — NASCAR RaceDay on Fox Sports 1
8 p.m. — Race on FOX
---
Monster Energy Supercross: Petco Park in San Diego, California
10 p.m. — Race coverage on Fox Sports 1
---
Sunday
---
NHRA: Winternationals at Auto Club Raceway in Pomona, California
1 a.m. — Qualifying (delayed) on Fox Sports 1
6 a.m. — Qualifying (delayed) on Fox Sports 2
7 a.m. — Qualifying (delayed) on Fox Sports 2
5 p.m. — Finals on Fox Sports 1
---
FIA World Rally Championship: WRC 2015

1 a.m. — Race coverage (delayed) on MAVTV
---
American Sprint Car Series: Devil's Bowl Winter Nationals at Devil's Bowl Speedway in Mesquite, Texas
2 a.m. — Race coverage (delayed) on MAVTV
---
NASCAR Sprint Cup Series: Sprint Unlimited at Daytona International Speedway in Daytona Beach, Florida
3:30 a.m. — Race (delayed) on Fox Sports 1
9 a.m. — Race (delayed) on Fox Sports 2
---
Lucas Oil Late Model Dirt Series: Topless 100 at Batesville Motor Speedway in Batesville, Arkansas
4 a.m. — Race (delayed) on MAVTV
---
FIA World Rally Championship: Rally Sweden (live)
6 a.m. — Race coverage on MAVTV
---
NASCAR Sprint Cup Series: Daytona 500 at Daytona International Speedway in Daytona Beach, Florida
1 p.m. — Pole qualifying on FOX
10 p.m. — The 1979 Daytona 500 on Fox Sports 1
---
Monster Jam: Houston, Texas
1:30 p.m. — Event (delayed) on Fox Sports 1
---
Lucas Oil Off-Road Racing Series: Round 3 at Wild Horse Motorsports Park in Chandler, Arizona
2 p.m. — Pro Lite and Pro 2 races (delayed) on MAVTV
5 p.m. — Pro Lite and Pro 2 races (delayed) on MAVTV
---
Lucas Oil Late Model Dirt Series: Show Me 100 at Lucas Oil Speedway in Wheatland, Missouri
7 p.m. — Race (delayed) on CBS Sports Network
---
Red Bull X Fighters: Dubai, United Arab Emirates
9:30 p.m. — Event (delayed) on Fox Sports 2
---
Monster Energy Supercross: Petco Park in San Diego, California

11 p.m. — Race coverage (delayed) on Fox Sports 2
---
Photo credit: Chris Graythen/Getty Images