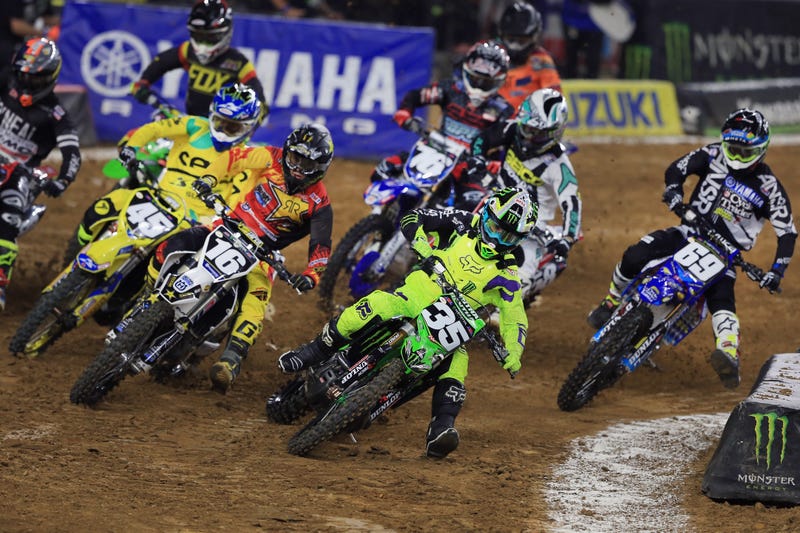 Welcome to the Jalopnik Weekend Motorsports Roundup, where we let you know what's going on in the world of racing, where you can see it, and where you can talk about it all in one convenient place. Where else would you want to spend your weekend?

Happy weekend, everyone. Hopefully you've survived another work week and are ready to sit back and watch some racing, because plenty is on the schedule over the next two days.
NASCAR once again has a triple-header race weekend planned—this time, at Atlanta Motor Speedway. The Camping World Truck Series and Xfinity Series will both run on Saturday, with the Sprint Cup Series headlining the Sunday show. Denny Hamlin's historically close win in the Daytona 500 essentially locks him into the series' Chase for the Sprint Cup, and any driver who does the same this weekend—if it's not Hamlin again—will punch the same ticket.
Georgia is a bustling place on Saturday, as Monster Energy Supercross will be just under an hour away from the NASCAR events at the Georgia Dome. The final live event of the weekend, NHRA, will be several states away in Arizona. This will be the first weekend NHRA is on track since its Feb. 14 season opener, which wasn't without a scare—a 69-year-old Funny Car competitor went shooting into the safety net at 307 mph when his parachutes failed to deploy.
Other than those showings, the rest of the weekend is on tape delay. That lineup includes a bit of season-opening action from NHRA in Pomona, California, the 54th Annual Knoxville 410 Nationals, Lucas Oil Modified Racing Series, Lucas Oil Late Model Dirt Series, FIA World Rally Championship, Lucas Oil Off-Road Racing Series, Red Bull X Fighters, FIM Motocross and Monster Jam.
If you know of any other streams or racing going on this weekend, please, do let us know in the comments below.
All times below are EST.

Saturday
---
NASCAR Sprint Cup Series: Folds of Honor QuikTrip 500 at Atlanta Motor Speedway in Hampton, Georgia
5:30 a.m. — Qualifying (delayed) on Fox Sports 1
11:30 a.m. — Final practice on Fox Sports 1
---
NHRA: Sportman Series at Winternationals at Auto Club Raceway in Pomona, California
7:30 a.m. — Sportsman Series coverage (delayed) on Fox Sports 1
---
NASCAR Xfinity Series: Heads Up Georgia 250 at Atlanta Motor Speedway in Hampton, Georgia

8:30 a.m. — Qualifying on Fox Sports 1
1 p.m. — NASCAR RaceDay on Fox Sports 1
1:30 p.m. — Race on Fox Sports 1
---
NASCAR Camping World Truck Series: Great Clips 200 at Atlanta Motor Speedway in Hampton, Georgia

10 a.m. — Qualifying on Fox Sports 1
4 p.m. — NCWTS Setup on Fox Sports 1
4:30 p.m. — Race on Fox Sports 1
---
54th Annual Knoxville 410 Nationals: Knoxville Raceway in Knoxville, Iowa
10 a.m. — Race (delayed) on MAVTV
10 p.m. — Race (delayed) on MAVTV
---
Lucas Oil Modified Racing Series: The Hoosier Tire West Championship at Havasu 95 Speedway in Lake Havasu, Arizona
4 p.m. — Race (delayed) on MAVTV
---
Lucas Oil Late Model Dirt Series: Lucas Oil Knoxville Late Model Nationals at Knoxville Raceway in Knoxville, Iowa
5 p.m. — Race (delayed) on MAVTV
---
Monster Energy Supercross: Georgia Dome in Atlanta, Georgia
7 p.m. — Coverage on Fox Sports 1
---
NHRA: CarQuest Auto Parts NHRA Nationals at Wild Horse Pass Motorsports Park in Chandler, Arizona
10 p.m. — Qualifying (delayed) on Fox Sports 1
---
Sunday
---
NASCAR Xfinity Series: Heads Up Georgia 250 at Atlanta Motor Speedway in Hampton, Georgia
12 a.m. — Race (delayed) on Fox Sports 1
---
FIA World Rally Championship: Wales Rally Great Britain
1 a.m. — Coverage (delayed) on MAVTV
---
54th Annual Knoxville 410 Nationals: Knoxville Raceway in Knoxville, Iowa
2 a.m. — Race (delayed) on MAVTV
---
Monster Energy Supercross: Georgia Dome in Atlanta, Georgia
3 a.m. — Coverage (delayed) on Fox Sports 1
11 p.m. — Coverage (delayed) on Fox Sports 2
---
Lucas Oil Late Model Dirt Series: Lucas Oil Knoxville Late Model Nationals at Knoxville Raceway in Knoxville, Iowa
4 a.m. — Race (delayed) on MAVTV
---
NASCAR Camping World Truck Series: Great Clips 200 at Atlanta Motor Speedway in Hampton, Georgia

6 a.m. — Race (delayed) on Fox Sports 1
---
NASCAR Sprint Cup Series: Folds of Honor QuikTrip 500 at Atlanta Motor Speedway in Hampton, Georgia
8 a.m. — Final practice (delayed) on Fox Sports 1
11 a.m. — NASCAR RaceDay on Fox Sports 1
1 p.m. — Race on FOX
---
AMSOIL Arenacross: Amalie Arena in Tampa, Florida
10 a.m. — Coverage (delayed) on Fox Sports 1
---
FIM Motocross: Losail, Qatar
11 a.m. — MX2 coverage (delayed) on CBS Sports Network
1o p.m. — MXGP coverage (delayed) on CBS Sports Network
---
Lucas Oil Off-Road Racing Series: Round 4 at Wild Horse Pass Motorsports Park in Chandler, Arizona
2 p.m. — Pro Lite and Pro 2 races (delayed) on MAVTV
5 p.m. — Pro Lite and Pro 2 races (delayed) on MAVTV
---
NHRA: CarQuest Auto Parts NHRA Nationals at Wild Horse Pass Motorsports Park in Chandler, Arizona
5 p.m. — Coverage on Fox Sports 1
---
Red Bull X Fighters: Dubai, United Arab Emirates
9:30 p.m. — Event (delayed) on Fox Sports 2
---
Monster Jam: St. Louis, Missouri
10 p.m. — Event (delayed) on Fox Sports 1
---
Photo credit: Tom Pennington/Getty Images