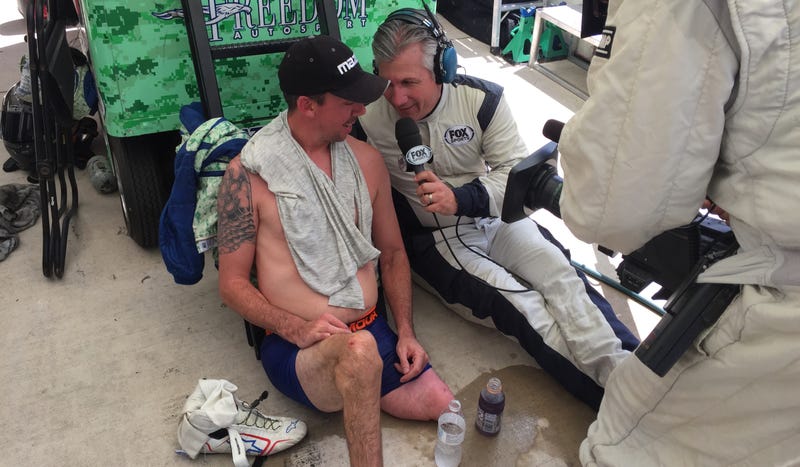 Television, schmelevision. Liam Dwyer was done with clothes after being lifted out of his car during today's Continental Tire Sports Car Challenge race at Circuit of the Americas. It's hot and humid and let's be honest, if the rest of us thought we could get away with that, we'd be down to our undies, too.

Dwyer races the number 26 Mazda MX-5 for Freedom Autosport, and couldn't wait to get out of his fire suit after his stint. Imagine wearing a nomex quilt in sticky ninety-degree heat, and that's exactly what today feels like in Austin.

Dwyer has to be lifted out of the car for driver changes, as he has a prosthesis that connects his left leg to the clutch pedal. Dwyer himself is pretty awesome, as he lost his leg from the knee down while serving in Afghanistan and was determined to drive race cars anyway — leg or no leg.

Today, the prosthesis came off first, and then the suit.

All of the suit, plus fireproof under-layers.

Fox Sports' Brian Till sat down for an interview with Dwyer after their driver change, and while most of us might shy away from that, Dwyer embraced the moment, demanding a photo with Till and crew chief Jerry Runion.

Photo credits: Mazda Motorsports

---
Contact the author at stef.schrader@jalopnik.com.