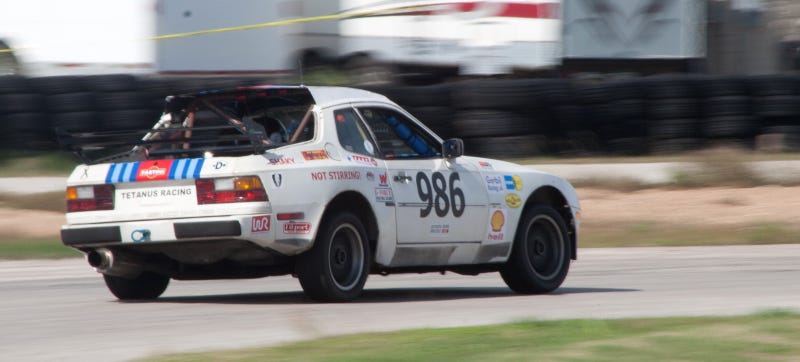 If you ever wonder whether you still care about your "ran when parked" race car that you haven't had time to look at in months, go race someone else's car of the same model. The single best thing I've ever done for my Porsche 944 was to go race someone else's Porsche 944.

How did my race car end up sitting around for so long? Well, 2015 was filled with travel. Between racing in arrive-and-drive seats with other teams, having an out-of-state boyfriend and trips for Jalopnik, my Der Porschelump racing team's Fisher-Price Puffalump Easter Bunny mascot got to see more action than my car.

My poor Porsche 944's muffler rotted off during the ChumpCar race it ran in February, and the car hadn't been moved much since then. I didn't have time to get my car over to a muffler shop, and even though it lived at a track, no one could fix the stupid thing at the track itself. I was working a lot of weekends, and I couldn't get over to tinker with it much. Welding is far above my skill set, and since mufflers are budget-exempt for crapcan series, I might as well pay someone to do it right from the start.